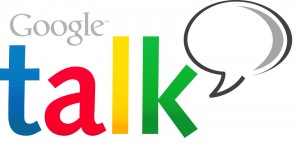 When Google launched Google Talk (Gtalk) in 2005, it was good rated because it allows voice chat and text over the Internet using XMPP / Jabber open protocol. That time the application came to compete with MSN, AIM and Yahoo! Messenger as desktop client. Shortly Google added the Gtalk chat ability to Gmail allowing more people who had no knowledge about Google Talk to chat with their friends. It was so successful that many today refer only to "Gmail Chat". Over time Google has integrated Google Talk in Orkut, iGoogle and Google Docs, each with specific functions, but never updated its desktop version. In addition to chat, see the list of different features that each Gtalk product have:
| | | | | | | | | | |
| --- | --- | --- | --- | --- | --- | --- | --- | --- | --- |
| Client | Platform | Text | Group | Aim | Phone Calls | Voice | Video | Visual notification | File transfer |
| Desktop | Windows | Yes | No | No | No | Yes | Yes | Yes | Yes |
| Gmail | Web | Yes | Yes | Yes | Yes | Yes | Yes | Yes | No |
| Orkut | Web | Yes | No | No | No | Yes | Yes | No | Yes |
| iGoogle | Web | Yes | Yes | No | No | Yes | Yes | No | Yes |
| Talk gadget | Flash | Yes | Yes | No | No | Yes | No | No | No |
| Jabber | Desktop | Yes | Yes | No | No | Yes | Não | Yes | Yes |
In the above table you can analyze the various platforms that Google Talk works. Furthermore, we mention Jabber clients also because most of them allows you to use almost all Google Talk features (as the iChat included with Mac OS X). One more thing: Gmail notifications are only available if you're using Google Chrome. There are still minor features like emoticons that aren't available in desktop client or in some clientes can't be viewed or chosen.
We didn't mention Google Docs here because it's specific to that purpose, but it doesn't make it less interesting: it enables document cooperation and live editing. It's goal isn't a random chat and it's related only to the document. Some of its features are based on the Google Wave collaboration features.
For mobile devices, there are clients for mobile browsers that support only text and there's a special version for Android, which can send notifications to the phone.
The Google Talk help forum has been deactivated recently and we can see that users want features that makes Google Talk closer to its competitors:
An unified web interface, not necessarily integrated with Gmail
All existing features from clients in that web interface and the desktop client
A client for iPhone and Android with text, voice and video capabilities
The difference between clients is visible. After the initial release of the desktop client, several web clients were created, none of them with all features from the installable version and changes occurs slowly. Each new client launched by Google gives the impression that it's a new product and not the good old Google Talk. The question is: does Google lost the desktop client source code or is it a strategy to use cloud services? We'll keep watching its progress.