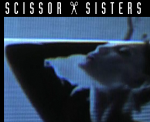 The Scissor Sisters may be an unknown band to some, perhaps because it's relatively new. Their first single was released in 2003 and the debut album in 2004 but this is one of the best-selling albums in UK, compared to Robbie Williams, Coldplay and Dido. The second album Ta-dah was launched in 2005 with broke withI Don't Feel Like Dancin' showing the singer's high notes and the ability to create a 70s' sound faced of 2000s.
Past five years since the release, the band stopped for more than 2 years to produce the new album but still showing that they know and do well since they started their career. The tracks show a band more comfortable, but with sound well thought out. This one was produced by Stuart Price, who has also produced artists like New Order, Madonna and The Killers.
If you do not know Scissor Sisters, the new album is a great chance to do so 'cause the work was already considered by some the band's best. Listen and enjoy the unique rhythm and excitement of the Scissor Sisters.
Se você não conhece Scissor Sisters, o novo álbum é uma boa oportunidade de fazê-lo porque o trabalho já foi considerado por alguns o melhor da banda. Em todo caso, escute e desfrute do ritmo único e empolgação do Scissor Sisters.
Below, the clip and an acoustic version of Fire with Fire from the new album Night Work:
Watch the video of the band at the Glastonbury festival with Kylie Minogue here.

Featured