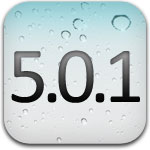 Apple has improved its operating system and hired some of the hackers who "broke down" the system, but still restricts the execution of some applications that change the way that iOS runs, a practice called Jailbreak.
As a Christmas gift, a group managed to find a way to break the new version and released it to the public. This method is compatible with both versions of the iPhone 3G, iPad, iPod Touch and iPhone 4. The iPhone 4S and iPad 2, both with chip A5 still do not have a jailbreak in this version and the owners will have to wait a little more for a solution.
Here's how to easily jailbreak your device in 5 steps:
Update your iTunes to the latest version and plug your device on USB port
Synchronize your device or make a backup, just in case a problem occurs in the process
Accept the update and wait it to complete
Download and install Redsn0w 0.9.10b3 Redsn0w for Windows or Mac (links here)
Follow the onscreen instructions. Cydia icon will be available on the screen, allowing the installation of multiple applications not available on the App Store, such as themes and other system utilities.
It's important to mention that those who bought the iPhone locked by a carrier should not try this method. The recommendation for these cases is NEVER update the iPhone through iTunes and wait for a complete method for unlocking the operator (which is different from Jailbreak).

Featured